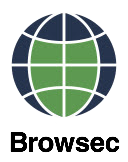 Rating 4.5
Our Rate #23 from 39 Of All VPNs
Browsec: Benefits of using
Browsec has been operational since 2012. As a result, the service partially keeps logs and cooperates with the state. Disclosed in the privacy policy, it states that the service remembers your computer, IP address, and other information.
Despite partial logging, Browsec still boasts worldwide reputability. Over eight years, Browsec has amassed over 8 million downloads. At the same time, users rate the service as 4.5 - 4.7 stars out of 5.
Browsec specializes in protecting traffic and safeguarding mobile phones, although there is no separate client for Windows and Mac. (There is only an extension for Google Chrome and Mozilla Firefox.)
You can "Download Browsec" by searching the Google PlayStore or the AppStore.
The extension is compatible with PPTP protocol, although that feature is outdated and cannot provide 100% protection. Generally, mobile applications are made with IPsec and L2TP protocols with AES-256 encryption. Therefore, we recommend using Browsec on phones only, not PCs.
Download BrowSec for Android and iOS from Google Play and AppStore. Monthly subscriptions only start at $4.99 a month, and if for some reason the service isn't for you, you can always request a full refund within 7 days.
Servers
The application has 400 servers in 43 countries. Mostly everything is virtual. Virtual servers are worse than real ones because they are easier to hack; they are often overloaded and do not work as efficiently.
Simultaneous connections
In the paid version, one account can connect and protect up to 5 devices simulatelenously—a free 1-week trial here.
Comparison of Free and Paid BrowSec Versions
Both versions guarantee stable Internet access with unlimited traffic. But in the free version, the download speed will not exceed 1 Mbps. With the premium service, you get 100x that with a max download speed of 100 Mbps. For more comparison oversights, visit below.
| | Free | Premium |
| --- | --- | --- |
| Number of countries | 4 (United States, Netherlands, Singapore, UK) | 40 |
| Bandwidth | 1 Mbps | 100 Mbps |
| Unlimited traffic | Yes | Yes |
| Premium servers | No | Yes |
| Answers from technical support | Not in priority | Priority |
| Number devices | Many | 1 |
| Protocol | PPTP | PPTP |
| Encryption | AES-256 | AES-256 |
| protection against leaks DNS | Yes | Yes |
| Change browser time zone by location | No | Yes |
You can use the free version to try out Brovsek. But for long-term work, it is better to use the paid version. With premium, you can download files from the Internet, watch movies and stream the latest TV shows at blazingly fast speeds.
Features Browsec
Hide IP address.
Protect incoming and outgoing internet traffic.
Unblock torrents and bypass government censorship restrictions.