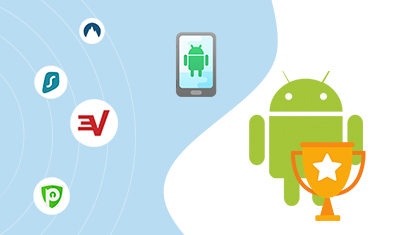 In this Guide we present to you the most comprehensive review for the top 4 best free VPN apps for Android. Our team tested Express VPN, Nord VPN, PureVPN, and SurfShark VPN on speed, connection reliability and privacy.
We found ExpressVPN the best app for android on the market, which provides great value for money, with plans starting at $6.67/month.
List of the best VPN apps for Android
Why Do You Need VPN for Android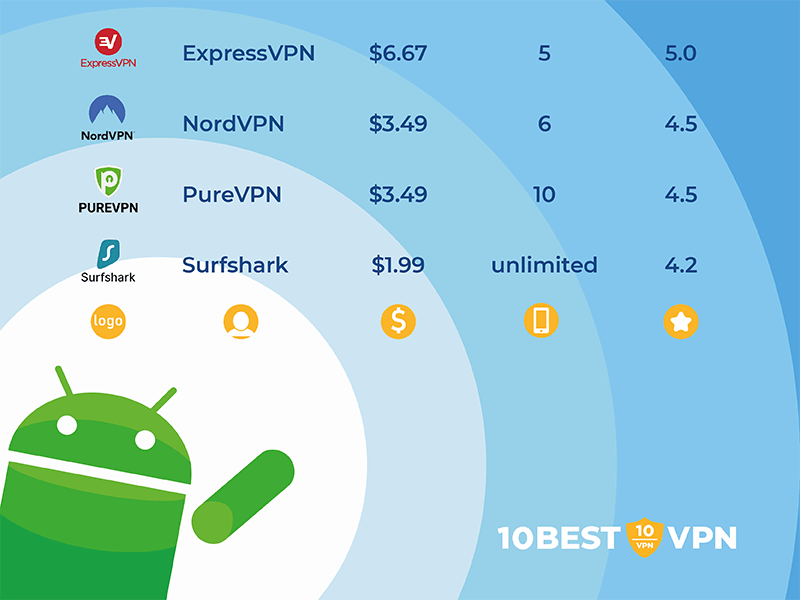 If you get used to taking your Android tablet or smartphone with you and connect to Wi-Fi on-the-go VPN app for Android is the thing you must have. It will encrypt your data while you're using open Wi-Fi spots, it will help you to watch or listen geo-restricted content, it will spoof your real IP address and location.
All the the best VPN services offer their own Android VPN applications. If you are not sure whether your current VPN service offers such application, you can check its site. On the page named "Features" or "Apps" or "Downloads", you will find the information about all supported operating systems.
If you don't use any VPN provider but want to enhance the security and privacy options of your Android device you can download a native Android VPN app from Google Paly Store.
Our Top Product Picks
1. ExpressVPN
2. NordVPN
3. PureVPN
4. Surfshark
5. CyberGhost
How to Install a VPN on Android
Installation takes place from Google Play or via the APK file. How to use Google Play option: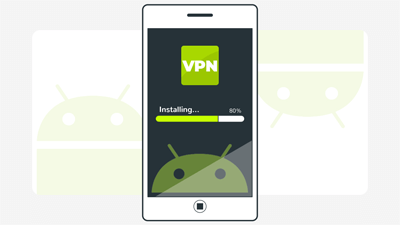 Open Google Play. Enter the name of the service in the search box and tap on "Find" in the form of a magnifying glass icon. Also on the site of each of the services there is a direct link to their product in the Google store.
The official client page in the store will open, tap/click on "Install" and wait for the download to complete.
After installation, open the client and log in or use the 7-day trial period if the vendor offers one.
Unlike iOS, Android is an open operating system, which allows you to install VPN clients from alternative sources. How to do it:
Go to the official website of the company, open the "Download", "VPN" section or scroll down to the very bottom of the page, expand "Product" and select "Android".
Wait for the download to complete and tap on the downloaded APK. If necessary, give permission to install software from an unverified source.
You can get VPN updates for Android installed from the APK through the aforementioned Google Play. Regarding where to get APK from other companies:
On file exchangers or forums — it is not safe because viruses can be sewn into the file.
Ask friends using the service to make a copy of the APK using an application called — Apk Extractor.
Where Can I Download VPN for Android?
If you already use reliable VPN provider and you are fully satisfied with service it is better to use the Android application from this provider. If you have a lot of devices, it is better to choose VPN application from the same provider which you are already subscribed (so you will pay less per device). Of course it is better to check how many devices and simultaneous connections does your VPN provider support.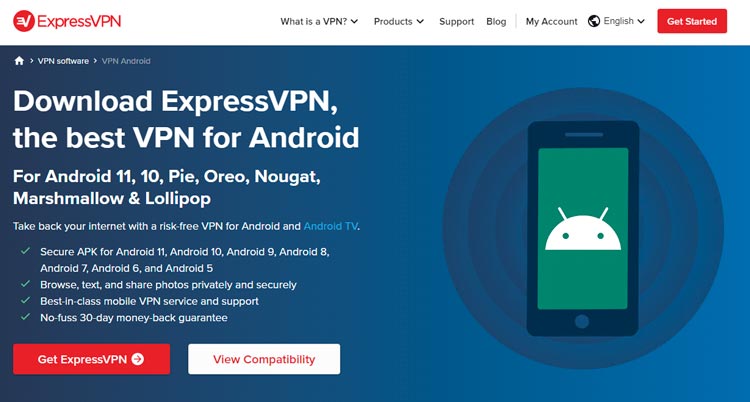 The VPN application should be downloaded only from Google Play Store or directly from the site of VPN service as application from any other place may contain malicious code. If you have quite outdated Android device it is better to check whether VPN application supports your version of Android.
How to Choose VPN for Android
Support different platform versions
Please check, whether your VPN provider offers support for different versions of Android (like Google TV, Streaming Android TV boxes, Android TV.droid, etc.). If you have a more specific Android device, you can always ask the support team about the possibility of using VPN on your device.
Performance
VPN service for Android (as well as VPN for any other operating system) has to provide good connection speed and reliable servers. If you are looking for VPN which will let you watch your favorite Hulu or Netflix TV series on Smart TV
Encryption
As encryption of traffic is one of the main reasons of using VPN for Android your provider has to offer the most advanced VPN protocols and encryption protocols. The best protocol for Android VPN is OpenVPN (also, an open-source solution with great possibilities of customization). As for encryption protocol, 256-bit AES is an industry standard.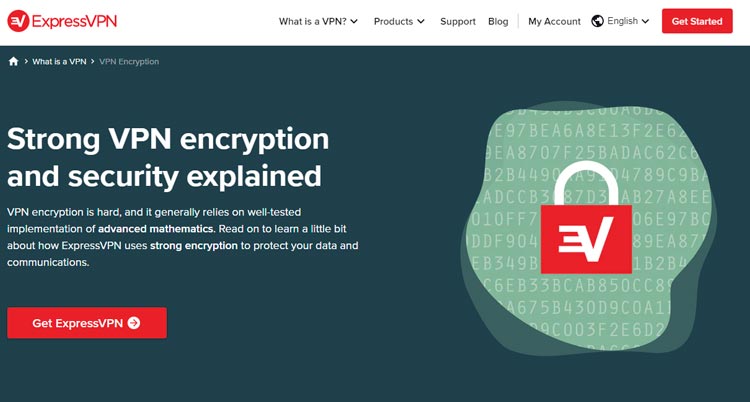 Security
Your VPN service should provide such additional security features as protection against DNS leaks and IP leaks as well as a kill switch. These features help to keep your real IP address and DNS records in secret even if something wrong with connection or with the setting of your browser.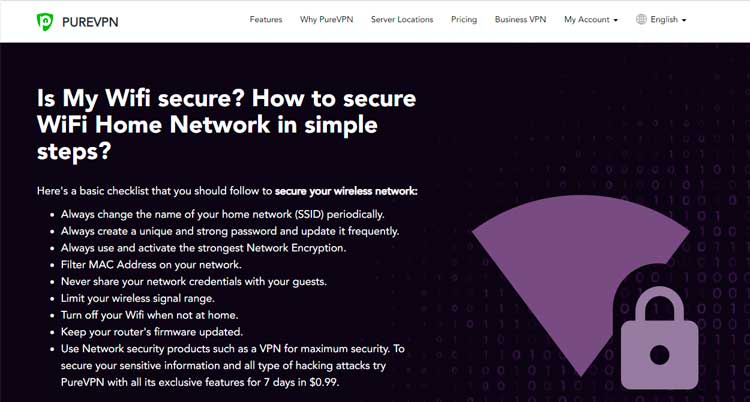 FAQ
Will Android VPN app slow my device down?

In most cases, you won't feel any difference. Maybe if you have a very outdated smartphone or tablet with the little volume of ram memory one more application will slow it down significantly. In this case, it is better to use native apps on OpenVPN as they usually require less memory to operate.

Will VPN app for Android ensure my full anonymity and security?

VPN (no matter for what operating system) can provide privacy and security, but not the full anonymity. In most cases, your Android device is packed with different applications and some of them may have an access to a lot of settings and data. Also, your location may be kept in applications. That is why VPN is not able to guarantee your anonymity. The best way to gem maximum security is not to use free VPN service.

Whether Android VPN app is compatible with Smart TV?

All reliable VPN providers offer the support of Smart TV. Some of them create custom applications for them, some VPN services offer VPN routers which can be used with any device. If you need VPN to watch Netflix or Hulu VPN router will better option as it helps to spoof your real IP address better (and it won't be saved in some settings of your Smart TV).
VPN Providers Comparison
Pricing and Plans
At just $0.99 per month, Ivacy VPN for Android is the most affordable VPN. Surf the web privately, stay protected on public WiFi and block malware like millions of Android users for up to 90% off.
| | | | | | |
| --- | --- | --- | --- | --- | --- |
| min price | $6.67 | $3.49 | $1.32 | $1.99 | $2.75 |
| max price | $12.95 | $11.95 | $10.95 | $11.95 | $12.99 |
| max discount | 49% | 80% | 88% | 83% | 79% |
| Money back days | 30 | 30 | 31 | 30 | 45 |
| Free Version Available | | | | | |
| BitCoin accepted | | | | | |
| No Credit Card Trials | | | | | |
Android carriers can grab a 2-year plan for as low as $3.71 per month (68% off) for the first two years with NordVPN. Access more than 5,100 servers worldwide, enjoy the no-log policy, and connect up to 6 devices simultaneously while being backed by a 30-day money-back guarantee.
2
3
Other VPNs